10 Jan 2023
Lead Forensics recognized as a Top 100 Global Software Company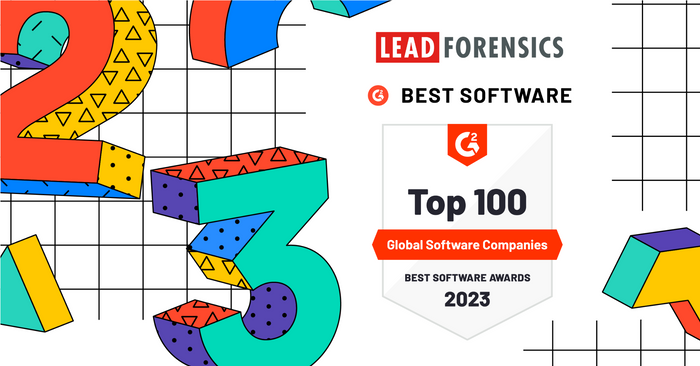 We're excited to announce we've been named in G2's 2023 list of 100 Best Global Software Companies.
Other companies on the list include software giants such as HubSpot, Microsoft, Salesforce, Adobe, and Paypal. Our inclusion in the Top 100 Software Companies list is a clear testament to our unwavering commitment to excellence.
As the world's largest and most trusted software marketplace, G2 is visited by 80 million software buyers each year. Its annual Best Software Awards rank the world's best software companies and products based on authentic, timely reviews from real users.
"We are thrilled to be recognized by G2's Best Software Awards as one of the best software companies globally," said Lilah Waite, CMO of Lead Forensics. "This award is recognition of our commitment to delivering high-quality B2B software that meets the needs of our customers and helps them to win more business. We're proud to be part of this list and will continue to strive for excellence in the years to come."
"While G2 publishes the Best Software Awards each year, they're really awards from customers," said Sara Rossio, Chief Product Officer at G2. "Representing a vote of confidence from real software users, these awards also spotlight those that have risen to the top among thousands of companies. Congratulations to all those named, as buyers will continue to lean on these awards as a trusted source to inform their software decisions in the year ahead."
In addition to being listed as one of the Top 100 Global Software Companies, Lead Forensics is #1 in G2's Marketing Account Intelligence category and was awarded a Momentum Leader badge in Marketing Account Intelligence.