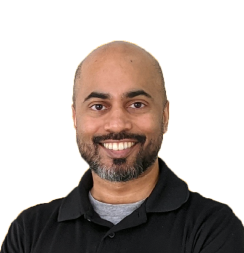 Senthil Govindan
Senthil is an evangelist for Programmatic Advertising and a strong believer in the interdependence of marketing and data.
He has participated in the evolution of digital marketing at close quarters for over a decade as a Marketer and Media Buying Head and
taken multiple Advertising Technology products to market.
Senthil founded Datawrkz, a Digital Advertising Technology and Services firm 9 years ago and has grown the firm to
its' current size of 90 employees. Senthil has an MS in Management Information Systems from the University of Arizona, and an MBA
from the Indian Institute of Management. More importantly, he and his wife have two tough-to-manage preteen boys.

Senthil lives with his family in Bangalore, India, though given how much he travels, he often says that he lives in a plane.